Serving Greater Spokane and Northern Idaho for Over 15 Years
At Continental Door, we are passionate about providing our customers with the highest quality product and services. For more than 15 years, we have done residential and commercial garage door work for customers in Spokane, Spokane Valley, Coeur d'Alene, and the surrounding areas. Helping them achieve their overhead door objectives is what we work hard to do. We take pride in going beyond simply supplying products and services; we think creatively about your garage door, then craft the appropriate solutions that fit your budget and your design preferences. Your investment in a new garage door for your home or business goes further when you choose Continental Door.
Continental Door Company was founded in 2000 by company President, Norm Morse, and has achieved significant sales growth every year. Continental now is the largest Cornell Iron Works dealer in the Inland Northwest, and the largest Clopay Door dealer in the West. The company is located in Spokane Valley off of I-90 and Pines on Indiana Avenue. This location was purchased a few years ago, fronting the I-90 corridor and on Indiana, making it quickly accessible for any customers who would like to see our Showroom and for manufacturer's deliveries to our new 6,250 square foot warehouse facility.
Morse is joined in business with his two sons, Marc and Derik Morse. The boys were born and raised here in Spokane, WA, with Norm having grown up just down the road in Medical Lake, WA. Marc Morse heads up the commercial division and Derik Morse leads the residential division. Each has a great crew of installers, salesmen, and support teammates helping keep Continental as a driving force for garage doors, sectional doors, coiling doors, and more in the region for new installations and construction, as well as retrofit and replacement options. Continental has a growing staff to keep up with growing demand, employing over 20 current teammates full time, and having several sub-contractors who support the team as needed in their ever-increasing workload.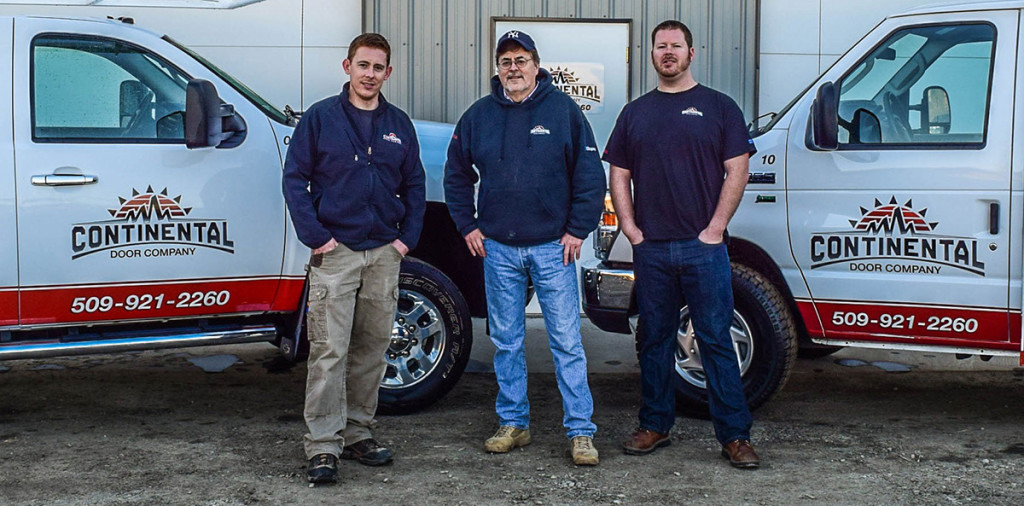 Active in both commercial and residential new construction throughout the Inland Northwest, including all of Washington State, North Idaho, Western Montana and Northern Oregon, their teams are always on the move. Continental's most recent commercial jobs include installations at Spokane International Airport for several projects, SCC Automotive Tech Building, SCC Heavy Equipment Building, Larry H. Miller Lexus, AutoNation Toyota, Volkswagen and Audi, Speedco, several Avista projects, Seaport Steel, Exotic Metals, and many more.
Residential projects with Continental Door are constantly on the rise. New construction installations and retrofit remodels to replace existing garage doors are necessary for applications ranging from multi-family homes, apartments, new subdivision developments, remodeling existing homes and building your dream home. The residential department is quickly catching up to the volume of commercial, with Derik Morse dialed in as a master in garage door design for a number of Spokane and North Idaho home builders. Clopay's high-end garage door products and versatile design options give this division an edge in the local market that can't be beat.
One of the fastest growing markets this year has been in both residential and commercial service. Continental Door has a top-of-the-line highly skilled and knowledgeable service team that works hard day in and day out. The Service department supports 24/7 emergency service, replacement components from all makes and models of springs, sectional doors, coiling doors, motor parts and components, motor replacement, preventative maintenance, residential garage door service and commercial service for all overhead door parts. Continental's service team has a full-time welder available for custom fabrication, and experts in the field with over a decade of experience. If your home or facility needs garage door service, or anything related to them fixed, look no further than Continental Door's service team – the quickest response service team in Spokane!
With business continuing to run very strong, 2016 is definitely trending towards another banner year for Continental Door Company. Breaking through barriers in the service and residential markets, installing a large base of new Clopay and Cornell doors, and building up an expert team, this appears to be a natural extension for Continental's continued growth. With Norm's strategic vision for the company, and the family and team's continued dedication, the future of Continental is strong.
Brands You Know and Service You Can Trust
Here at Continental Door, we want to deliver the quality and durability you can trust with each installation. Our commitment begins with a selection of overhead doors and accessories from respected brands. You'll find options from trusted manufacturers including:
We are the only Master Authorized dealer for Clopay in the Greater Spokane area and their largest dealer in the West. This is only one aspect of our commitment to quality, along with the highest level of customer service and fastest response time. Once you choose the perfect product from these industry leaders, you'll benefit from the exceptional service and knowledge that we're known for! We have grown quickly in more than 10 years of servicing this community. While our rapid growth is a testament to the level of care and detail we bring to each installation, retrofit, and service job, we're looking to do more than simply get the job done and move on. When we work with our customers in their home or business, we want to leave knowing that our customers are well set up with a high-performance, well-working product installed. We want to leave knowing that the job was done right the first time.
Your Source for Garage Door Installation and Repair
When you need a garage door in the Greater Spokane area, North Idaho and our surrounding communities, we're here to help. Among garage door companies, we stand out for our large selection of quality garage doors, sectional doors, operators, coiling doors, operable walls, high-speed doors, fire doors and other products. We also set ourselves apart through personalized service. Our team truly understands your unique needs! For new construction or garage door retrofit, we offer free design consultations. For repairs, we respond with 24/7 emergency service and a team of well-trained technicians.
Contact us today for garage door installation or service at your home or business.